Attractions
The Blue Ridge Parkway, known as America's Favorite Scenic Drive, meanders through the tri-counties of Patrick, Carroll and Floyd. The three counties offer a diverse topography of rolling vineyards, farms, orchards and breathtaking rugged mountain terrain.
A hunters paradise the area is home to an abundance of deer, turkey and bear. Many rivers have their beginnings here including the Smith River, Mayo River, Dan River, Little River and the New River. For fishing, boating and swimming fun Fairystone State Park, Kibler Valley and Philpott Reservoir offer lots of opportunities. Hiking and biking trails for the athlete, naturalist and photographer are throughout the area and include Rock Castle Gorge and the New River Trail State Park.
Some of the many attractions in the area are The Jeb Stuart Birthplace, Woods Brothers Racing Museum, Mabry Mill, R J Reynolds Homeplace, and Primland Resort.
Follow the Virginia Crooked Road Music Trail through the small towns and villages and enjoy bluegrass, country and gospel, a rich music background of the area. A favorite is the Floyd Country Store, on Friday evenings, for old time music and dancing in the streets.
Several golf courses in the area and among the most beautiful is Olde Mill Golf Resort.
Arts and crafts can be found at country stores throughout the area and the Jacksonville Center in Floyd and the Depot Emporium in downtown Patrick. Local festivals throughout the year include Patrick County Peach Festival, Carroll County Labor Day Gun and Antique Show and Floyd County Music Fest, Chateau Morrisett Winery hosts several jazz events each year.
Virginia Fall Color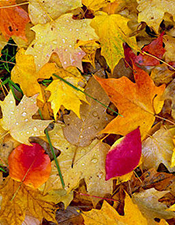 Fall is a favorite time for visitors along our Blue Ridge Mountains.
You will be awed by the beauty of the warm splashes of vivid reds, yellows and oranges in the mountain regions from early October to late November every year.
And if you are looking to purchase property fall is a wonderful time. The crisp mountain air makes for an ideal time to walk and inspect property With the leaves off the trees the lay of the land is easily defined whether it be farm land or mountain land you are interested in.
Then take a break from your search to enjoy a local festival, listen to mountain music just about everywhere, sample the harvest at a local winery and start to feel like you've come home.
Five Star Mountain Realty can provide you with all the information you will need to plan your next visit to the mountains in any season.

What Makes Leaves Change Color?
As days grow shorter, and nights grow longer and cooler, biochemical processes in the leaf begin to turn color. The various colors depend upon the particular species. The Pigments include: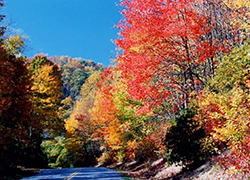 § Chlorophyll — the green that begins to fade
§ Carotenoids — make yellow, orange and brown
§ Anthocyanins — make red, maroon, purple
Trees that are in shade turn more yellow, while those
in the sun show more brilliant shades of red!


Virginia Trees & Colors
ash — yellow, maroon
beech — yellow to orange
dogwood — scarlet to purple
hickory — golden bronze
oak — red, brown or russet
poplar — golden yellow
red maple — brilliant scarlet